Rosemarie's Accomplishments as District 1 Supervisor
Fire Insurance
Co-Led the Insurance Subgroup of the Tree Mortality Task Force, worked with then State Senator Ricardo Lara to draft language for SB 824, and worked with United Policyholders WRAP to ensure Mariposa residents' wildfire insurance issues were visible at the State level. Thanks to the work of a number of individuals and organizations, Insurance Commissioner Lara is proposing regulations to ensure property owners have more information on and insight into insurance company practices that directly affect them.
Tree Mortality Disaster Declaration and State-level Tree Mortality Task Force
Led the four-county effort to encourage then Governor Brown to issue an emergency declaration on tree mortality and participated in the Tree Mortality Task Force created as a result of the declaration as well as related committees on topics such as roads, insurance, and regulations. Conversations in the TMTF led to a $6 Million line item in the Governor's budget that combined with Disaster Relief funding that I, working with the local Office of Emergency Services, obtained from the State, and coupled with the County's partnership with Blue Ridge Services, resulted in $5.4 Million in tree felling and removal work in Mariposa County, primarily along County maintained roads.
Local Tree Mortality Working Group
Initiated the local tree mortality working group which met monthly for three years and focused on projects in Mariposa to reduce wildfire risk for residents. It is the working relationships formed within this group that have facilitated much of the progress made at the local level. As the tree mortality disaster lessened, this group became the basis for the Mariposa County Fire Advisory Committee.
Broadband
I worked with other county supervisors to create the Central Sierra Broadband Utility Zone (CS BUZ) to position Mariposa County to receive funding for broadband projects and initiated the Mariposa Connect Advisory Committee that brings together key broadband users – the School District, JCF Hospital and the Park – to share information and resources and pursue project funding.
Beneficial uses for Forest Biomass
Participated in the Rural Economic Development Steering Committee and continue to work with the Joint Institute for Wood Product Innovation to find beneficial uses for forest biomass such as biomass to energy and biochar. Read about my trip to Northern California and Oregon as the request of the Governor's office here. Working at the state level, I have and continue to help the Mariposa Biomass Project and other similar projects with helpful legislation.
Dispersed Camping in the Merced River Canyon
I worked with staff and partner agencies to pass a Mariposa ordinance to restrict overnight camping near Yosemite View Lodge and, more importantly, developed internal processes (for the first time) to enforce parking violations in Mariposa County. This is important as camping along HWY 140 in the River Canyon raises wildfire concerns and people worry about the absence of proper sanitation facilities. Besides starting to post and enforce parking regulations, we have also been able to physically restrict access to some of the more commonly used areas, e.g. the sand pit. Pictures of poop and campfires in the sand pit were very effective in convincing Caltrans and the Forest Service that something had to be done about dispersed camping in the River Canyon!
Funding for Deferred Maintenance in Yosemite
Invited by the Pew Foundation to lobby Congress to pass the Great American Outdoors Act which provides significant funding for the Park to address deferred maintenance.
Timely Information During Disasters
I worked with partner agencies to disseminate information to residents during the Detwiler Fire, the Ferguson Fire and the Briceburg Fire. During the Ferguson Fire, I worked with a number of State and Federal agencies to develop a risk assessment tool so that residents could have early information on probabilities of road closures on Highway 140 in the River Canyon.
Service Dogs for Veterans
Applied for and received a grant from PG&E to supply service dogs to veterans. This grant was administered by the Alliance for Community Transformations and the American Legion.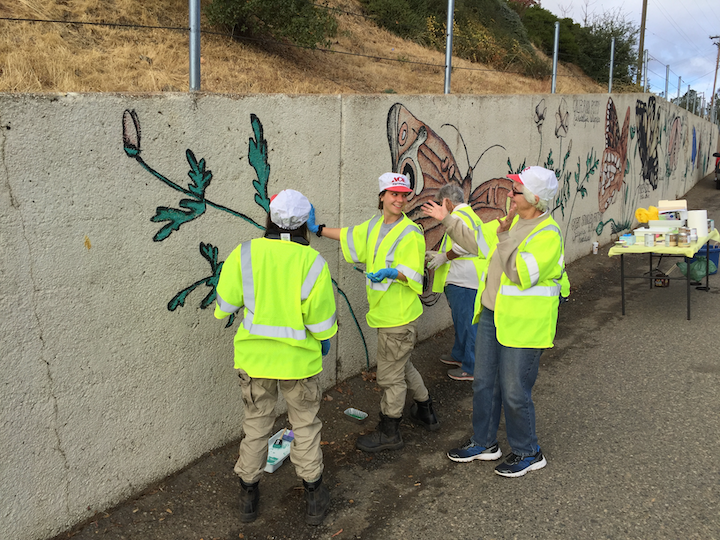 AmeriCorps Volunteers
One highlight of my last term was getting 10 AmericaCorps volunteers here for 7 weeks. They helped spruce up downtown Mariposa, restored the butterfly wall, did trail work for the BLM, and landscaping on private property to help mitigate erosion during winter storms. I wrote the application including finding housing for them, but realized that getting the AmeriCorps people here was a long-shot as they could well have been assigned to cleanup after several hurricanes that struck other parts of the country right before they were due to be here. But they came and we all benefited. I think the kids had some fun too and certainly enjoyed Yosemite!

Helping Constituents When and Where I Can
Worked with partner agencies to address a wide variety of constituent concerns – from helicopter landing sites to power pole placements to hangar rental charges at the airport.

It has been a pleasure, and a lot of hard work, representing Mariposa County as a Supervisor and I hope the voters will have me back for one more term!