Recent Events
Memorial Day 2022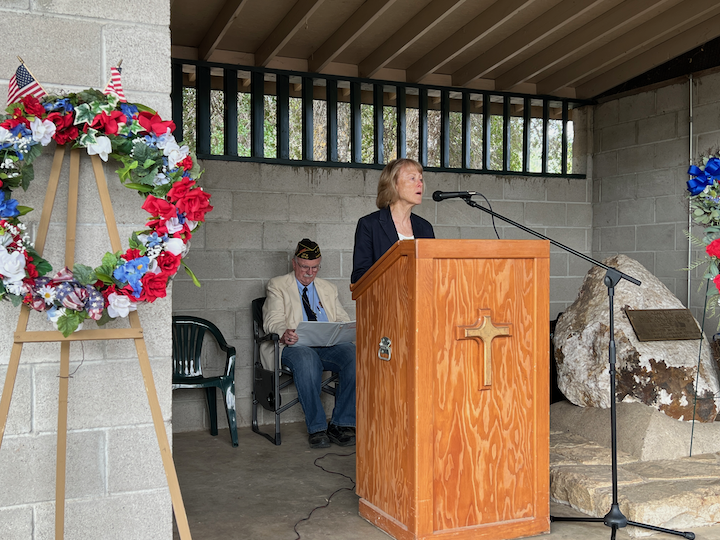 On May 28th, as the Chair of the Board of Supervisors, it was my privilege to speak to those gathered for the Memorial Day Ceremony about not only honoring those who gave the ultimate sacrifice in defense of our freedoms, but to also emphasize the need to care for those who returned home, but who have unmet needs. I noted that, of the record 12 suicides last year in Mariposa County, the majority of those suicides were veterans and listed a number of local organizations and individuals dedicated to helping our veterans get the mental and physical care they need.













I then spent several very pleasant hours at the Rotary Art, Wine and Wheels event on the Courthouse lawn talking with friends and supporters.
YSS Tour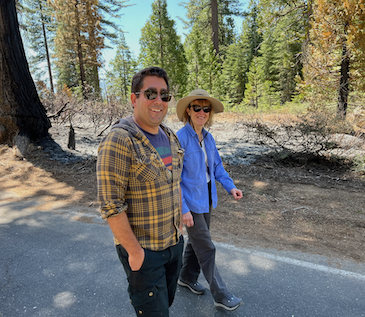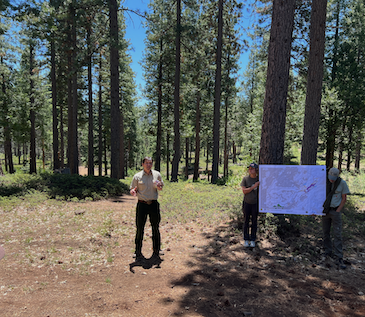 On Friday, May 20th, I attended a Yosemite Stanislaus Solutions (YSS) sponsored tour of wildfire mitigation efforts in Tuolumne County that are being done in partnership with the Forest Service, CalFire, Sierra Nevada Conservancy, Tuolumne County and the many contractors hired to do the work. Looking at a prescribed burn site, I got to talk with a friend and Ponderosa Basin resident, Michael Pickard. We also heard from the Forest Service's Michael Jow about the strategies used to select sites for fuel breaks and Potential Operational Delineations or PODs. PODs are "containers" that the Forest Service can pre-plan for containment of a wildfire that might start in any given area, giving fire fighters a head start in terms of containment. It was also good to hear about the decision-making process as to whether a given area was best treated by a prescribed burn or mechanical thinning, or both, depending on conditions on the ground. We also discussed how and when treated areas could best be maintained going forward.

It was great to see both Michaels as they had served for three years on our local tree mortality committee. I formed this committee in 2015 as we realized then that only with everyone involved working together could we solve the crisis and reduce fire risk. It was good to see how many of the things we discussed locally, like prescribed burns, fuel breaks and mechanical treatments, are evolving in Tuolumne County. The Joint Chiefs' project in Mariposa County was credited for saving Jerseydale, Mariposa Pines, Lushmeadows and Ponderosa Basin from the Ferguson Fire. You can view my presentation on this project to the annual meeting of the Society of American Foresters here.


Spring Fling













On Saturday May 7th, I had lots of fun at Spring Fling in El Portal as I always do! Great weather, good friends, good food, the river flowing swiftly, what more does one need?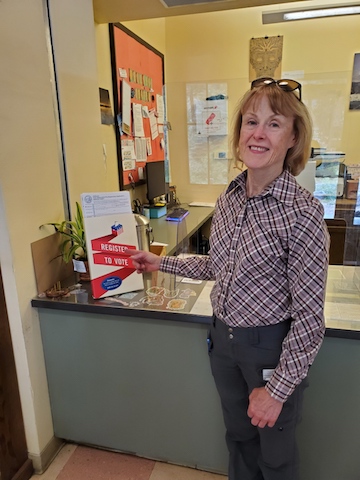 Sal's Night On Thursday, May 5th, I attended a concessionaire's event in the Valley to encourage new employees to vote, then Sal's Night in El Portal which is always fun!










Tri-Tip Dinner On Saturday April 30th, I attended a tri-tip dinner fundraiser for the Ponderosa Basin firehouse. It was good to meet some of my new constituents and discuss issues important to the community, such as fire danger and water storage.







Lunch at Sugar Pine/Dixon's Fixin's


On April 25th, I enjoyed discussing local politics and with some supporters at one of my favorite restaurants!.


Butterfly Festival



My last week has been fairly ordinary with just the normal Board of Supervisor meeting and meetings with the various committees on which I serve or chair as well as meeting with constituents. Last Saturday, April 23rd, however, we had a float in the Butterfly Festival Parade, and I had lots of fun talking along the way and with people at the fairgrounds on Saturday afternoon and Sunday.
Yosemite Gateway Partners Panel on National Park Reservation System, April 14th


As a member of the YGP Board, I volunteered early this year to pull together a panel for the April Quarterly meeting. Our Board decided we should focus on how communities around other Parks have responded to reservation systems such as the one about to go into place for Yosemite. On Thursday, attendees at the YGP meeting heard from Racene Friede, President and CEO, Glacier Country Tourism, and Shelby Hampton, owner/operator of Glacier Outfitters and owner of two air BnBs near Glacier National Park. Racene outlined how their Tourism Bureau had already developed relationships with federal agencies to respond to the large numbers of people visiting Glacier and surrounding federal lands who weren't prepared and didn't have good information about what to expect.

When Glacier National Park implemented their reservation system, Racene and her partners were able to pivot to coordinate messaging about the reservation system. She emphasized their communication with Glacier NP and how closely they coordinated their messaging. Shelby described how her operation at the airport (along with the rental car companies) became the first opportunity for visitors to ask questions about the reservation system and other topics. She also talked about the impact of the reservation system in terms of leveling out traffic at her operation in the Park during the day and also moving visitor traffic into the shoulder seasons. From her perspective, the numbers of visitors is not declining as a result of implementation of the reservation system.

Both Racene and Shelby acknowledged the importance of having a mechanism in place to ensure all visitors have an enjoyable experience, which won't occur when they're stuck in traffic. Racene said their framework has shifted from "destination marketing" to "destination stewardship."
---------------------------------------------------------------------------------------------------
AAUW held their Candidates' Forum on the Evening of April 13th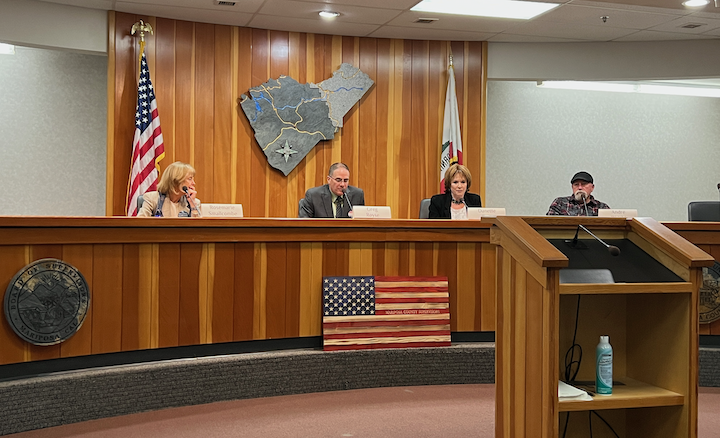 The Mariposa AAUW held their Candidates' Forum on the Evening of April 13th in the Board Chambers. There was a good crowd in attendance to hear District 1 candidates Rosemarie Smallcombe and Greg Royse and District 3 candidates Danette Toso and Andre Wright answer questions and discuss their experience and qualifications for the job. All were seated at the dais and answered questions from the moderator, Jim Allen. Jim started by describing the job as much more than "4 meetings a month", emphasizing that it was a 7-day a week job, attending many committee meetings, travel, and the necessity to read board packets that could exceed 2,000 pages every week. Then each candidate read their opening statement. Jim then read questions prepared by AAUW followed by questions the audience submitted on index cards.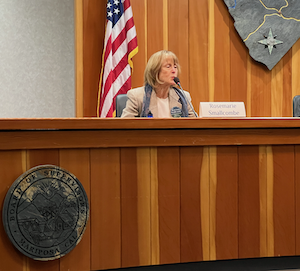 Questions covered topics like fire insurance, housing, homeless, PG&E, mining, Public Works' reputation and roads, constitutional counties, the boards on which they serve, and more. Since Rosemarie had been working on all the issues addressed in the questions, her answers reflected her knowledge and experience on these issues, especially on the issue of fire insurance, an area where she has been working at the state level for 6 years now.

The event was well run by the AAUW and the moderator, the questions relevant, the audience courteous, and the candidates all did a good job answering the questions and discussing their qualifications. It was a good night for all.

The AAUW has posted two videos of the forum on Facebook: before the break and after the break.
---------------------------------------------------------------------------------------------------
Opening Keynote Address, Association of Environmental Planners April 11, 2022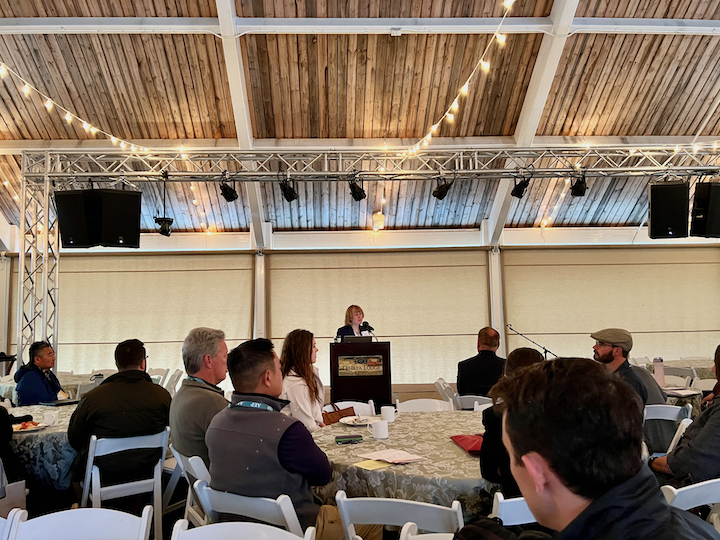 On Monday April 11th, Rosemarie gave the Opening Keynote address to the Association of Environmental Planners at their California State Conference at the Tenaya Lodge in Fish Camp in a tent pavilion with a large screen on both sides of the podium.




Her 45-minute talk not only welcomed the planner to Mariposa County, but also described her work at the state and local level on the Tree Mortality Disaster and covered the planning effort needed to execute the Joint Chiefs' project in this area that is credited for saving 1,400 homes in Jerseydale, Lush Meadows and Ponderosa Basin from the Ferguson Fire. She received a lot of positive comments after her talk!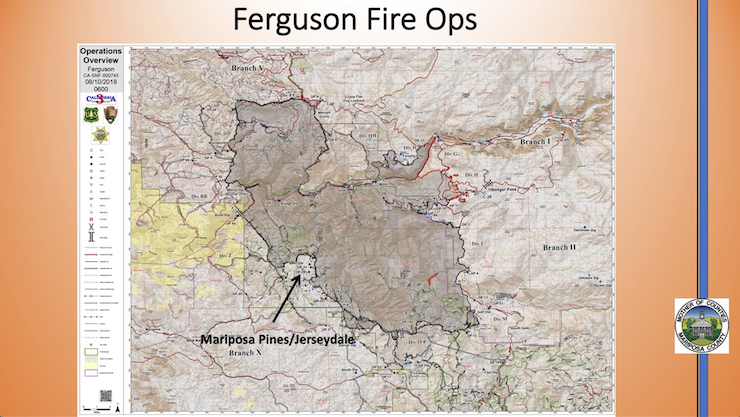 ---------------------------------------------------------------------------------------------------
Wawona Area Private Property Owners Advocates, April 9th, 2022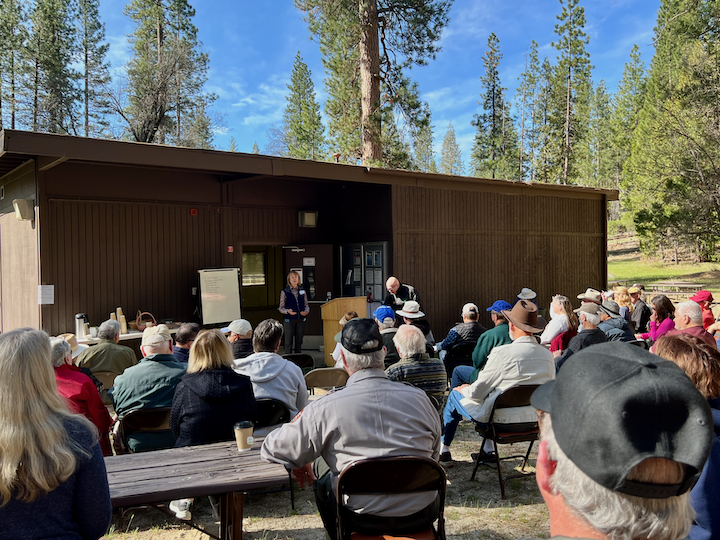 I was pleased to be invited to speak at the Wawona Area Private Property Owners Advocates annual meeting on Saturday, April 9th where I reviewed a number of issues of concern to property owners. For example, I described the recent arrangement developed to remove pine needles from properties there. Originally Public works estimated that it would cost each property owner ~$60 for pine needle removal. However, working with the Director of Public Works, Shannon Hansen, and Melinda Barrett, the Executive Director of the Mariposa Yosemite Resource Conservation District and grant administrator on a CalFire grant Melinda had obtained to remove dead trees from properties in Wawona, we found a better solution. Fortunately, CalFire agreed to allow the pine needles to be picked up and removed as part of the grant and the pine needles will be removed by the end of May. I was also able to discuss various road projects that Public Works has planned for the Wawona area, conversations regarding the Wawona Elementary School, funding for a new ambulance bay in Wawona and the potential for Wawona to become a Firewise community, potentially reducing insurance rates.

Both the speaker before me, Cicely Muldoon, Superintendent of Yosemite National Park, and Melinda Barrett, mentioned above, were asked questions about issues with PG&E in the area. Both speakers deflected those question to "Supervisor Smallcombe", or "Rosemarie" as I seemed to have developed a bit of a reputation for getting issues with PG&E resolved. No magic here, I work with my contact at PG&E in a non-adversarial way and that seems to have paid off.

It was a lovely sunny day in Wawona and the meeting was followed by a BBQ with a live band to raise money for a new roof for the school .