Rosemarie, Reagan and the Prince of Darkness
Rosemarie joined Varian Associates to manage a group responsible for regulatory compliance, i.e., making sure that the companies she worked for obeyed laws and regulations, including laws governing the export of high tech equipment such as scientific instrumentation. While this may sound boring, it's certainly less so if you go up against President Reagan and the Prince of Darkness and WIN!
In one of Rosemarie's first assignments at Varian, she was tasked with achieving export regulation equity with Varian's European competitor. In theory at least, under international trade agreements, US and European companies agreed to play by the same rules in terms of shipping scientific equipment to Eastern Europe, i.e, the Soviet Bloc (the USSR and it satellite states, such as Hungary). In practice the Reagan White House wanted to bring the Soviet Bloc to its knees by denying them high tech equipment from the US. This created an unequal playing field for U.S. companies relative to their European competitors.

Rosemarie was called into the office of the President of the Varian's Scientific Instrument Business, and he explained that our German competitor was shipping scientific equipment to Eastern Europe and charging three to four times free market prices, thus allowing the German company to subsidize sales into the U.S. and other markets we were just beginning to penetrate. This put Varian at a competitive disadvantage. He said, this is a real problem and it's your job to fix it.
So Rosemarie set out with help from the marketing and technical people of the Scientific Instrument Business to obtain an export license to ship an instrument to a chemistry professor in Hungary, against the explicit wishes of the Reagan White House. Rosemarie's nemesis in this process was Richard Perle a well-known neocon. frequent guest on Sunday morning news programs in that era and close advisor to President Reagan. Perle's nickname, used by his supporters as well as his critics was The Prince of Darkness. Also working against the license application were Paul Wolfowitz and Douglas Feith, two names that along with Perle would affect U.S. foreign policy for years to come, e.g. starting the Iraq war.
After a year or so of effort with minimal results, Rosemarie was told that she would need to work with the designer of the computer system associated with the instrument in question, a scientist and engineering manager, Steve Smallcombe. They met with Pentagon officials in California and traveled to Washington DC many times to meet with congressional representative and their staffs as well as officials from the Departments of State, Commerce and Defense. Along the way, Steve and Rosemarie got married and, since Rosemarie's testimony and various meetings were documented in the Congressional Record, so was their marriage! Yes, their marriage and Rosemarie's last name change was documented in the Congressional Record.
Obtaining the export license took three and a half years and it was a very delicate game of chicken in that Perle continuously threatened to nullify Varian's defense contracts, which at the time were about half of Varian's business, if the license application was not withdrawn. That would have shut down a company with about 10,000 employees. In the end, President Reagan himself made the decision to let the license application proceed and told Perle to stand down.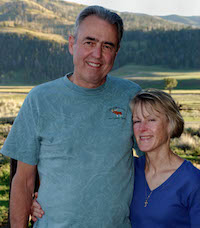 At their wedding, the best man toasted the couple by announcing that Steve had married Rosemarie as she could give him what no other woman could - a U.S. export license! Of course, everyone laughed. The principle contact at the Pentagon sent a lovely French porcelain clock as a wedding present; the clock hangs in our kitchen in Jerseydale today. The Hungarian professor sent a lovely coffee table book as a wedding gift. The Under Secretary of Commerce at the time, sitting in his large office overlooking the Potomac remarked that the Smallcombe marriage was the best, and perhaps only good thing that came out of Reagan's attempt at very strict export control. Thirty years later, Steve and Rosemarie whole heartedly agree!